E-type viscometer (cone plate)
TR-100E type viscometer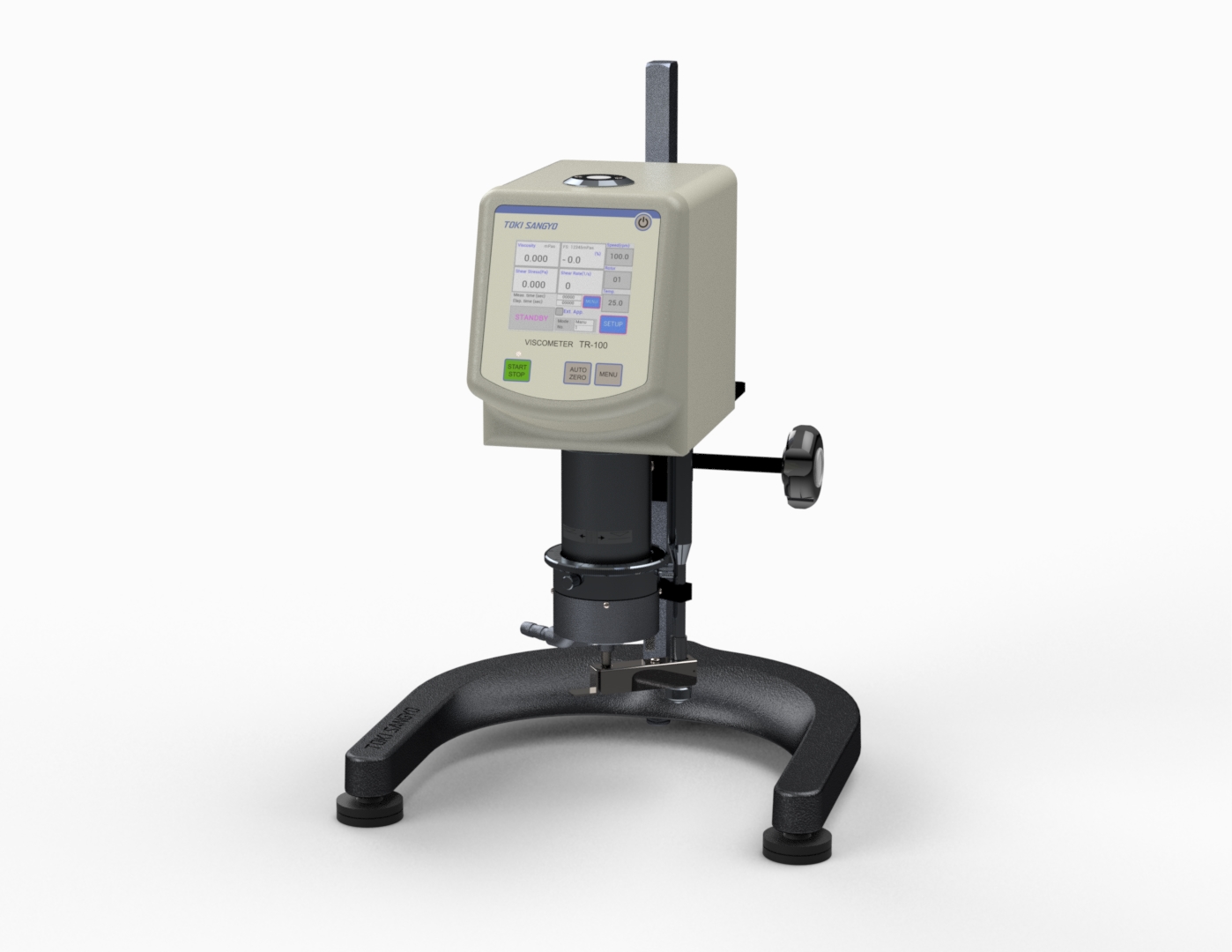 The TR-100E viscometer is a cone-plate rotational viscometer.
Since shear velocity and shear stress can be calculated theoretically, rheological analysis of non-Newtonian fluids becomes possible.
In addition, since it is equipped with an auto-lock mechanism to protect the pointer shaft, even first-time users of the viscometer can make measurements with peace of mind.
Auto lock mechanism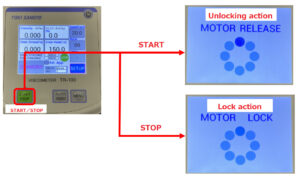 Power supply interlock mechanism
Even if the power switch is turned off during operation, the power will not be turned off until the bearings are completely locked.
In the event of a power outage or disconnection, please wait until the power is restored. After recovery, when the power is turned on, the lock operation is performed automatically.
Touch panel
Equipped with a 3.5-inch liquid crystal color touch panel, the easy-to-see screen improves operability.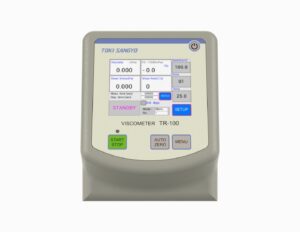 Operating principle
Rotation of the motor is transmitted to the rotor via the spiral spring, and viscous torque acts on the rotor rotating in the measured liquid.
The spiral spring rotates while being twisted by an angle proportional to the magnitude of this viscous torque. be the same as the corner.
A photosensor provided for each slit disk reads this torsion angle, converts it to viscosity, and displays it.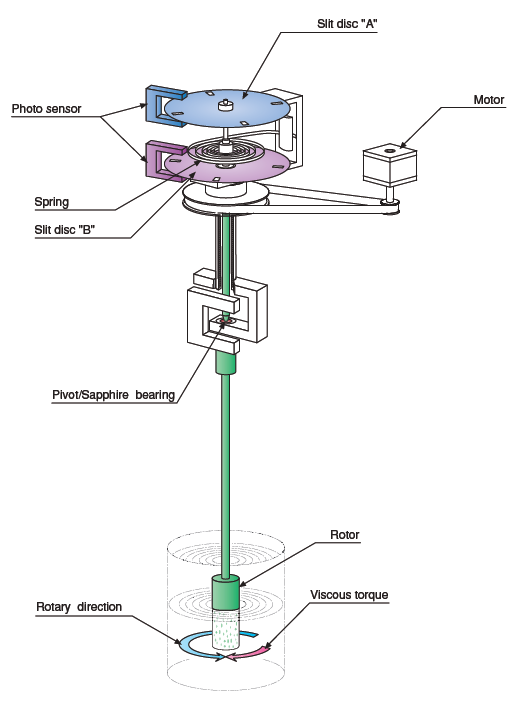 Data compatibility
The TR-100 viscometer complies with JIS and ISO standards, and the measured data is compatible with our other viscometers.
Optional cone rotor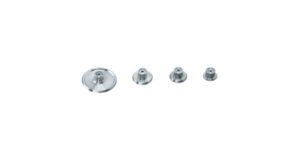 Various optional cone rotors are available depending on the viscosity value of the sample to be measured.
In contrast to the 1°34′ x R24 cone rotor that comes standard, the 3° cone is for measuring higher viscosity samples, and the 0.8° cone is for measuring lower viscosity samples. Choose.
Also, since some "3° cones" have small diameters, the higher the viscosity, the smaller the diameter of the cone rotor selected.
Temperature sensor
By using an optional temperature sensor with the TR-100E, it is possible to measure the temperature of the sample in the cup more accurately.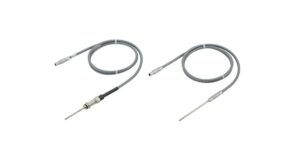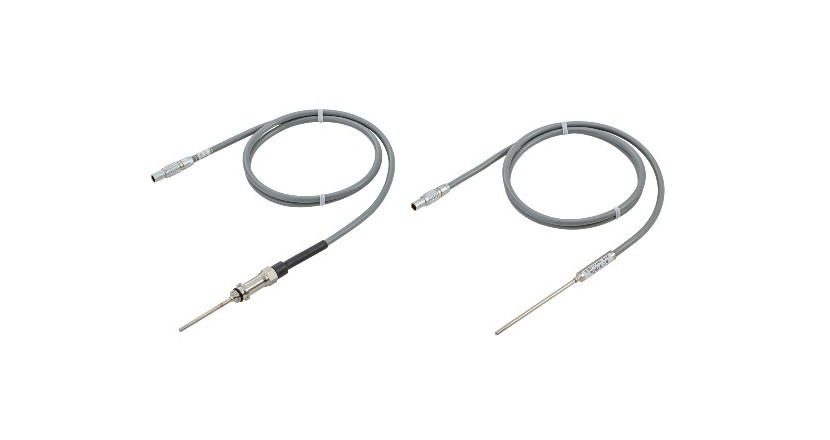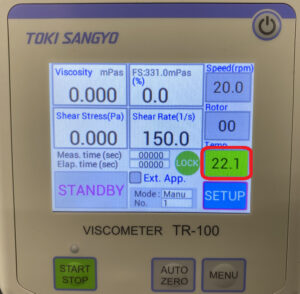 About sample temperature control
Since the cone-plate viscometer measures the viscosity of a small amount of sample, it is essential to control the temperature of the sample. Toki Sangyo provides two types of temperature control systems.
Circulating constant temperature water bath
This is a circulation type constant temperature water tank with an external circulation pump that supplies constant temperature water.
Connect the hose to the sample cup to keep the sample temperature constant.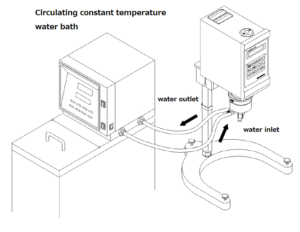 PC-100 (temperature control unit)
By adopting a Peltier element, it is possible to control the temperature with higher speed and accuracy than the conventional constant temperature water bath.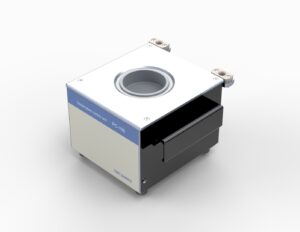 Visco Chart
This software imports viscosity data into a computer.
graph in real time
By graphing in real time, sample characteristics can be visualized and easily evaluated.
In addition, the simple analysis function can calculate the "hysteresis loop area" and "non-Newtonian viscosity index".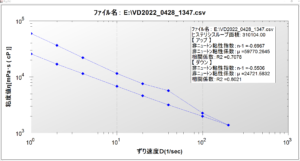 Printout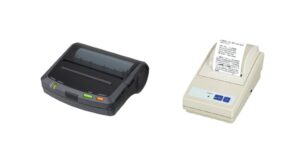 Viscosity data and temperature data can be printed by connecting an optional printer.